Rewarding Experience, Great Pay, Flexible Hours, And more...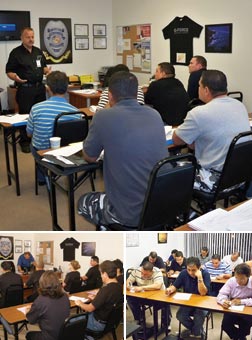 This career also helps secure your future. If you intend it to be a full-time profession, advancement is quick and dramatic. You can move from being a frontline security guard to operations to management in as little as one year or less. But this industry also provides a reliable second income stream — whether you're a student, you want a second job or simply as a fallback position in case your first career has a temporary setback. At any time, over the coming years.
It's Easy. It's Fast. And It Offers Real Security.
Getting on the fast track is easy, it's pretty quick and it offers you the foundation you need to succeed. It's a 40-hour course offering everything you need to get your Florida State Licence Certification, with all the training you need to excel in your profession.
The one-time fee for the
G-Force

Academy Course is just $150 including:
Course Outline:
Legal Issues & Liabilities
Basic First Aid
Fire Suppression
Emergency Procedures
Crime & Accident Prevention
Patrol Techniques & Report Writing
Terrorism Awareness
Access Control
Other Required Training
You Get:
Certificate of Completion
Required ID Photos
State License Application
Fingerprint Card
Notarization of Application
Important Notice from Florida Department of Agriculture and Consumer Services
Effective January 1, 2012, deferral of the 16 hours of training will no longer be possible. An individual applying for a Class "D" license will be required to submit proof of having completed all 40 hours training at the time of application.